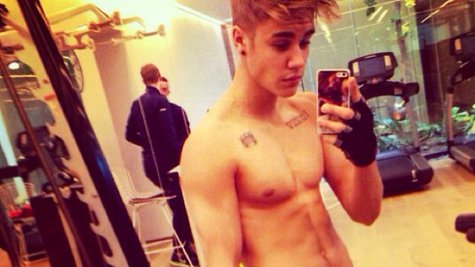 Justin Bieber recently tweeted that he was thinking about "putting out my music journals from the road." Then he created the hashtag #musicjournals, and tweeted , "#musicjournals=let the music do the talking." So what are these mysterious "music journals"? According to Justin's manager Scooter Braun , they could be the start of a new album.
"Well I don't ever disclose what our plans are, but I will say this: he's been writing one to two songs a day for the entire tour and he actually labels them by the city he writes them in," Scooter told MTV News . Considering the fact that he's been on tour for eight months, that's a lot of songs.
Scooter adds, "We started calling it his 'music journal' and we're talking about what should come next musically. And I think creatively he just wants to share all his thoughts through music."
Braun wouldn't confirm whether or not these journals are actually the beginnings of a new Justin disc. However, when asked what the song that Justin presumably wrote in Oslo, Norway -- the city where he reunited backstage with Selena Gomez -- would sound like, he dished to MTV, "Norway was an incredibly inspirational place. So you'll have to see."
Meanwhile, there's finally one person who thinks Justin's penchant for walking around half naked and posting shirtless selfies on Instagram is totally cool: Matthew McConaughey . The actor, who's rarely seen with a shirt himself, tells MTV News , "He keeps doing it in airports, right?...He's flying private, he can wear whatever he wants."
Addressing Justin directly, the actor added, "[It's] appropriate wherever you say it's appropriate. It's your shirt."
Copyright 2013 ABC News Radio