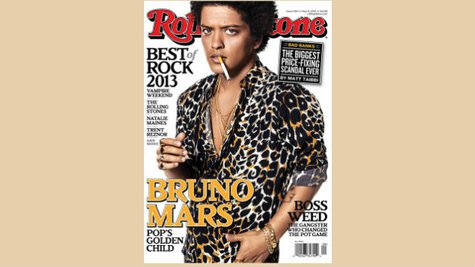 Bruno Mars is one of the hottest stars on the planet right now, so it's surprising that he's only now getting his first Rolling Stone cover. The singer graces the cover of the issue that hits newsstands this Friday, and inside, he reveals the woman who was the real-life inspiration behind his #1 hit "When I Was Your Man."
According to the magazine, Bruno "very reluctantly" admits that his girlfriend, Jessica Caban , inspired the ballad -- he wrote it when he was worried that he would lose her. But the story has a happy ending: they stayed together, and now, Bruno says he has a hard time performing the song in concert. "You're bringing up all these old emotions again," he says of playing the song live. "It's just like bleeding!"
Bruno, who the magazine calls "Pop's Golden Child" on the cover, also talks about the struggles he and his family went through in his early life, and the many years he spent paying his dues behind the scenes before becoming a Grammy-winning sensation. "I wouldn't trade it for anything," he says of his past. "Because I feel like I can enjoy this so much."
Copyright 2013 ABC News Radio