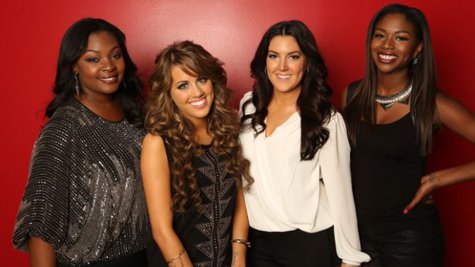 Last week on American Idol, Janelle Arthur sang for her life, but the judges didn't use the save on her. Now, the save is no longer in play, which leads to a problem: without a week where nobody goes home, the show will end a week early. But TVLine.com reports that there's a plan in place to prevent this happening.
A source tells the website, "Officially, the [Season 12] Judges' Save is no longer. But there's always been a contingency plan if the Save was not used." What that plan is remains to be seen, but it's possible that the producers will simply schedule a non-elimination week for one of the next three Thursdays. When asked to elaborate, the source would only say, "A little unpredictability can be a good thing."
Meanwhile, faced with four powerhouse remaining contestants -- Angie , Candice , Kree and Amber -- America may have trouble making up its mind as to who deserves the Idol crown. On what should we base our voting decisions going forward? Janelle Arthur tells ABC News Radio, "I think that originality is a big thing...people should just look for who's really just, kinda, standing out." But, she adds, "All these girls, I really just don't think America could go wrong with any of them!"
And that fits in with the egalitarian mood this season; according to Janelle, all the female contestants get along great and are not willing to trample their fellow contestants to grab the top prize. "We all have this thing where we don't really think that we need to get our hearts set on winning," she explains. "All of us talked about that. Like, I don't think any of us are really just dead set on winning...I think we all just wanted to go as far as we could."
In fact, there's so little cutthroat competition that Janelle says she didn't even feel badly last week when the judges -- and Paula Abdul -- tripped all over themselves praising Candice Glover for her version of Paula's "Straight Up"....even though she was the one who came up with the idea and arrangement.
"Oh, no, I didn't even think about that. I really didn't. That's crazy," she tells ABC News Radio, laughing. "I should have said, 'Hey, Paula, come over here!' But I did get a picture with her though. So, I was happy about that."
How did Janelle come to hand Candice the gift of "Straight Up" in the first place? "What happened is, we were already supposed to know our songs by that point and everyone was trying to help her figure out a song," Janelle says of Candice. "She was just really worried about it and I just said, 'Why don't you do, like, a really cool version of "Straight Up"?' and she was like, ''I've never heard that song before.'"
Janelle adds, "So, we looked it up and then we listened to Paula's version and I was trying to show her, like, you know, 'This type of feel,' and she just loved it, and ran with it."
Too bad Randy , Keith , Mariah and Nicki didn't give Janelle any credit for that. The show's executive producer, Nigel Lythgoe , recently said that he thinks that the judges don't have much chemistry this season. What does Janelle think?
"I think that the judges are pretty much doing the best job that they can," she tells ABC News Radio. "If I had the public eye looking at me like that and looking for my opinion all the time, that would be a really tough position to be in. So, I think they're doing the best job that they can with it, and I appreciated everything they had to say."

American Idol airs Wednesday and Thursday nights on Fox.
Copyright 2013 ABC News Radio