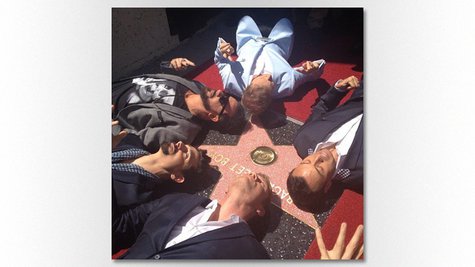 The Backstreet Boys capped off their 20th anniversary celebration Monday by receiving a star on the Hollywood Walk of Fame. Their longtime producer, Max Martin , was on hand to introduce them, and though the group has had many career highlights in the past two decades, all five members got emotional over this particular honor.
"Aside from my wedding day and the birth of my daughter, this is hands-down the best day of my life," a choked-up A.J. McLean told the fans who'd gathered to witness the event. Kevin Richardson , who reunited with the group last year after a few years away, was equally touched, saying, "What a beautiful day, what another beautiful way to celebrate 20 years together."
Brian Littrell capped off his remarks with a joke about having their name carved into a star on the Walk of Fame, telling the cheering fans, "I've worked my entire life to never be walked on, but I'm OK with this one!"
But it was Nick Carter who summed up the situation the best. "I wanna thank everybody in general for sticking with us throughout the years, through the ups and the downs, and the roller-coaster ride we put you on," he told the fans. "I'm sorry about some of it!"
As the fans laughed, Nick referred to the fact that a new album is on the way when he added, "I encourage everyone here to let the world know, at this very moment, that Backstreet is back! And we aren't goin' anywhere!"
Backstreet celebrated their 20th anniversary on April 20: they consider April 20, 1993 to be the official day the group formed.
You can watch the archived Walk of Fame ceremony at Backstreet's Facebook page .
Copyright 2013 ABC News Radio