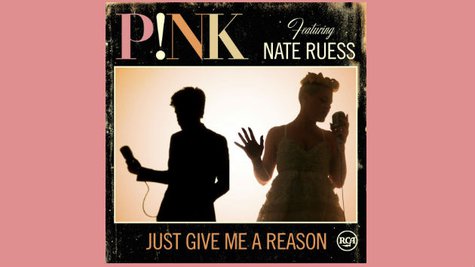 Pink is number one again, beyond any reasonable doubt. "Just Give Me a Reason," the singer's duet with fun. frontman Nate Ruess , has topped the Billboard Hot 100, giving Pink her fourth #1 overall. Her other chart toppers include "Lady Marmalade," "So What," and "Raise Your Glass."
As for Nate, this is his second #1 hit, following "We Are Young." Billboard points out that Nate is now the first male singer from a rock band to score a #1 without his group since 1999, when Rob Thomas topped the chart with "Smooth."
Elsewhere on the chart, Demi Lovato has scored her third top-10 hit with her new single, "Heart Attack." Her first top 10, a duet with Joe Jonas called "This Is Me," hit #9 in 2008, and "Skyscraper" reached #10. Surprisingly, "Give Your Heart a Break" didn't make the top 10.
Finally, South Korean rapper PSY has proven he's not a one-hit wonder, as his new single "Gentleman" blasts onto the chart at #12. The song was able to make a big debut because Billboard now includes streaming numbers in its tally. The "Gentleman" video also set the record for most views in a single day, and is now up to over 125 million views since it was first posted on Saturday.
Copyright 2013 ABC News Radio