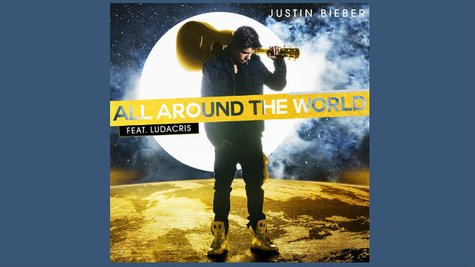 Ju stin Bieber navigates the globe in his video for "All Around the World" featuring rapper Ludacris .
The video showcases concert footage of Justin performing in front of hyped up audiences and being pursued by legions of screaming, crying fans. Images of fan-demonium and onstage action are intercut with shots of well-known international landmarks like London's Big Ben clock tower, the Eiffel Tower in Paris, the Coliseum in Rome and India's Taj Mahal.
Fans also get behind-the-scenes footage of the singer as he travels in between appearances, hangs out with friends, signs autographs, sports outlandish face masks and even films his own footage of the fan madness. Justin's video ends with a shot of him as he exits what looks to be an indigo-illuminated elevator and whispers, "Believe."
"All Around the World" is the fifth single to be released from Justin's album Believe , following "Boyfriend," "As Long as You Love Me," "Beauty & A Beat" and "Right Here."
Copyright 2013 ABC News Radio