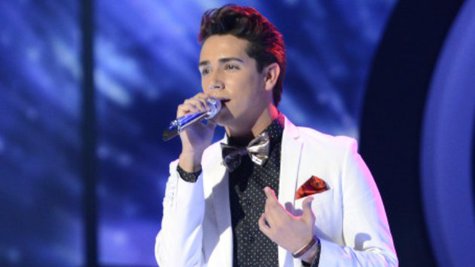 Though the judges gave him grief for his poor performances on American Idol , the show's latest booted contestant, Lazaro Arbos , has at least one major celebrity fan: Cher .
Speaking with reporters during a phone press conference on Friday, Lazaro said that plans are in the works for him to perform with the Oscar-winning entertainer on the American Idol finale. It turns out that Cher was so impressed with Lazaro that she actually reached out to him via Twitter.
"We've been talking back and forth," said Lazaro. "I love her songs."
Asked if he was actually a Cher fan before the legendary diva reached out to him, Lazaro admitted, "I wasn't too familiar with all of her songs 'cause she came out way before me, but I do love some of her latest songs. I love 'Do You Believe in Love.' I love 'If I Could Turn Back Time' and I love Burlesque ."
The singer also reiterated his comments, which he first made backstage Thursday night, that he would love to appear on Glee at some point, or even Modern Family . He confirmed that his goal wasn't to win American Idol, but simply to "get known and to become a performer."
Lazaro will appear on Live with Kelly & Michael on Monday.
Copyright 2013 ABC News Radio