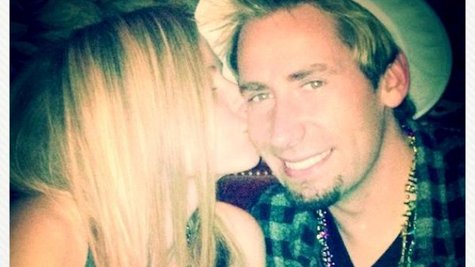 Avril Lavigne may never want to grow up, as she sings in her new single, but she's ready to settle down with her fiance, Nickelback's Chad Kroeger . Alhough this will be Avril's second marriage, she says she's not sparing any expense.
Speaking to ET Canada , the singer says, "I want to go all-out with this wedding," and adds that she's already got her dress, her wardrobe, her location and rings "all taken care of." Chad still has to choose the menu, though, and there's always the question of which song she and Chad will play for their first danceo. After all, "Sk8er Boi" and "How You Remind Me" are not exactly appropriate.
"I think we'll just play a song maybe that we wrote together as our dance song," Avril says. Considering that she and Chad first starting dating after they got together to write songs for her upcoming album, that would definitely be appropriate.
Avril also shared with ET Canada that she took Chad's "tattoo virginity." Surprisingly for a rock star, Chad didn't have any ink at all, until Avril surprised him while they were in France with a trip to a tattoo parlor. " He probably was thinking I was going to take him to the Eiffel Tower or something," laughs Avril. The couple got matching tattoos that say "Live for the moment" in French.
As for having children with Chad, Avril says she's in no rush. "Eventually," she tells ET Canada . "I have a career. I'm so excited for this album to come out and I'm gonna go on tour and travel the world."
Copyright 2013 ABC News Radio