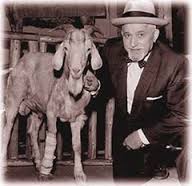 The owner of the Cubs received a not so pleasant gift on Wednesday.
A goat's head was delivered to Wrigley Field and the package was addressed to owner Tom Ricketts.
The goat's head was found at Gate K which is located near the field.
Police are investigating the situation.
Some say the goat's head may be in reference to "the curse". In the 1945 World Series restaurant owner Billy Sianis attended a game with his goat. He was asked to leave and stated the Cubs would never win again.