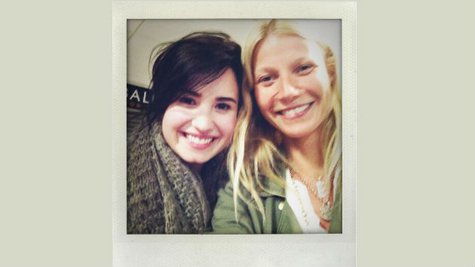 Demi Lovato is set to release her fourth studio album, Demi , on May 14. On Wednesday's Good Morning America , the singer, who wrote most of the songs on the project, said one song in particular is very raw.
"There's definitely songs on the album where I've just poured my heart and soul onto them. And one of them is a song called 'Warrior' and I think a lot of women will be able to relate to it," Demi said. "That one is a very vulnerable song for me to play for people."
Demi's got a busy schedule -- promoting her new album, touring in the summer and returning as a judge on Fox's X Factor. The singer, who suffered a breakdown in 2010 for stress and emotional issues, said she does a number of activities to stay mentally strong.
"I work out when I'm not totally exhausted," Demi told ABC's Lara Spencer . "[I practice] meditation, and I just talk a lot to the people around me and I don't hold anything in."
Demi added, "You schedule a lot of days off when you can, but I also have great people around me. I have people who will tell me, 'Hey! You're getting crabby. You need to chill.'"
While appearing on Good Morning America , Demi also got to hang with fellow guest Gwyneth Paltrow, who she jokingly calls her new best friend. The two were on the same flight headed to New York City on Tuesday, and Demi said that when she spotted the actress, she freaked out.
"I've seen Contagion like, 10 times, so I was like 'Oh, God. Oh, God'," Demi recalled, adding that she "dropped dead," when Gwyneth walked by her. But it turns out that Gwyneth and her 8-year-old daughter, Apple , are big fans of hers.
"My daughter actually introduced me to Demi's music, and now we're all big fans in our house. So I asked if I could take a picture for my daughter, who is thrilled," Gwyneth said on GMA . Demi added, jokingly, "So in return, I am releasing my album on Apple's birthday. May 14…Happy Birthday Apple!"
In other Demi news, the video for her first single, "Heart Attack," can now be seen at E! Online and elsewhere .
The clip mixes footage of Demi singing with her band inside what looks like the poorly-lit lobby of an office building -- it appears to be the same location used in videos by Matchbox Twenty and Daughtry -- with shots of her singing in front of a white background, with her hands covered in thick black oil, and oil smudges on her shirt and on her skin. Towards the end, we see her face emerging from a pool of that same black oil.
Copyright 2013 ABC News Radio