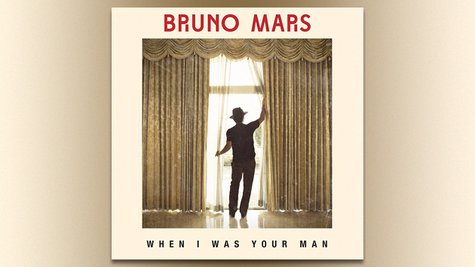 As a little kid, Bruno Mars appeared on stage as an Elvis Presley impersonator, but now he's got something else in common with The King. Billboard reports that Bruno's just scored his fifth #1 hit, and he's done that faster than any male artist since Elvis.
Bruno's "When I Was Your Man" has topped the Billboard Hot 100, which means it's only taken him three years, two months and one week to rack up five number ones. Elvis is the only artist who did it faster: it took him two years, seven months and three weeks.
It's not surprising that "When I Was Your Man" managed to leap to #1, since, as Billboard notes, it was sale-priced at just 69 cents for the past week on iTunes and Amazon.
Bruno's five number ones, in addition to "When I Was Your Man," are "Locked Out of Heaven," "Just the Way You Are," "Grenade," and "Nothin' on You."
Bruno now has as many number-one hits as Prince and Lionel Richie . The only male solo artists who've had more are Michael Jackson , Stevie Wonder , Elton John , Paul McCartney , Usher , George Michael , Phil Collins , and Elvis.
Copyright 2013 ABC News Radio