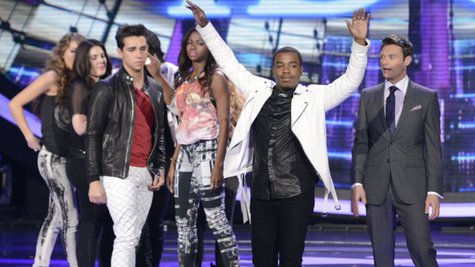 When Burnell Taylor got voted off of American Idol last week, it left just one man standing this season: Lazaro Arbos , whose "triumph-over-adversity" storyline has been tarnished by his inability to remember his lyrics. But Burnell thinks that it's not impossible that Lazaro may just blow past all those female contestants and win the whole thing.
"My advice to Lazaro: I just advise him to continue to do what he's been doing because it's working for him," Burnell tells ABC News Radio. "I mean, he's in a good position. He has potential to be top three, maybe the winner. But it's just a matter of hanging in there, and that's my only advice." When asked why Lazaro can't seem to remember his lyrics, Burnell said that was a question that only Lazaro could answer.
In the meantime, Burnell, who'll be on the summer's American Idols Live tour, says he's fine with going out at #7, because, truth be told, he didn't even want to win. "If I'm being a hundred percent honest, my main goal was just to be heard," he admits. "And after that, you know, everything else falls into place. But it's my responsibility to make something out of nothing, and run with that platform."
He may not have won the Idol crown, but Burnell did find romance on the show, in the form of fellow contestant Amber Holcomb . So, was it love at first sight for them? Not exactly. Burnell tells ABC News Radio, "Our first audition, we were actually in the same line and, you know, we were talking casually but it wasn't, like, liking each other. And when we got to Hollywood...when the girls got there, you know, I was like, 'Oh, I remember you,' you know."
Things grew from there, though, and at this point, Burnell says, "Yeah, I really like her. I really do and I'm hoping that we get to do a duet or something [on the tour]. I think the fans would love seeing that."
So, is Amber going to get every single one of Burnell's fifty votes from here on out? "Um, that's interesting," Burnell laughed, trying to weasel out of the question. "I don't know. I hope everybody gets my fifty votes, 'cause I love all of them, honestly!"
American Idol airs Wednesday and Thursday night on Fox. This week's theme is "Songs I Wish I Had Written," and Burnell says he would've sung Whitney Houston 's "I Look to You" if he had stayed on the show.
Copyright 2013 ABC News Radio