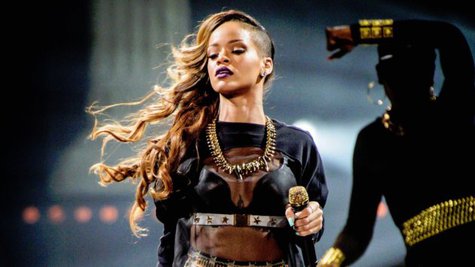 In the R-rated trailer for the upcoming apocalyptic comedy This Is the End , you see Rihanna hauling off and hitting actor Michael Cera after he slaps her on the butt during a raging party at James Franco's house. Then, she plunges to her death in an enormous hole. But did you wonder how Ri-Ri ended up in the movie in the first place? Director Seth Rogen explains it's because she's a fan of his past movies.
Speaking to MTV about This Is the End, Rogen says, "I'd never met her before we made this movie. I read that some of her favorite movies were Superbad ' and Pineapple Express , and I just remembered it to make me feel good about myself." He adds, "Then, years later, we were doing this and we were like, who could we get? And I was like, 'Rihanna!'"
According to Rogen, Rihanna took her job very seriously on the film, much to the dismay of Michael Cera. "Rihanna did slap the sh*t out of him," Rogen told MTV about the scene in the trailer. "For real, he said, 'I'm actually going to slap the sh*t out of your [butt],' and she was like, 'I'm actually going to slap the sh*t out of your face, then.'"
Rogen laughs, "We did it, like, six times, and the last time, he was like, 'I don't think I can do this anymore.'"
This Is the End hits theaters in June.
Copyright 2013 ABC News Radio