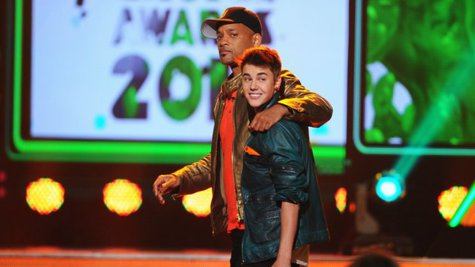 Hey, Justin Bieber ! You're loved by millions, but the media's down on you...just because you ran around half-naked, showed up late to a concert, tried to bring a monkey into Germany illegally and allegedly spit on your neighbor while arguing about how fast you were driving your Ferrari. Who can you possibly turn to for help and support? Will Smith , that's who.
Will Smith's wife Jada Pinkett Smith recently posted a message on Facebook criticizing the media for making things so difficult for young stars like Justin, and now Will himself tells Extra that he's got Justin's back, and is always available if the singer needs a "safe" place.
"When somebody is 19 years old, they are going to do what they're going to do, just like we did," Will told Extra , speaking about Justin. "For me, the most important thing was for him to know anytime he can call and I'll come, whatever happens."
He added, "At that age, that's what you need, to know you can do what you're gonna do, but you have somewhere you can go, where you can find safety."
The actor, whose son Jaden is a good friend of Justin's, says he and his wife believe it's "hugely important to support young artists," because they believe there's a "war against that kind of artistry, that kind of creation, and against youth."
Justin really appreciated Will's comments: he linked to the Extra interview on Twitter , and added, "Will Smith is the man."
Copyright 2013 ABC News Radio