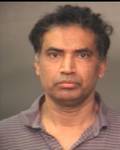 A Terre Haute Doctor that allegedly beat his wife was in court Thursday.
Doctor Harishchandra Rathod was officially charged with domestic battery and had a trial date set for June 27th.
Police say that Rathod pushed his wife to the ground and hit her in the head in front of their 3 ½ year old son.
Rathod has bonded out of jail.
His wife was treated at the hospital for head and neck injures.