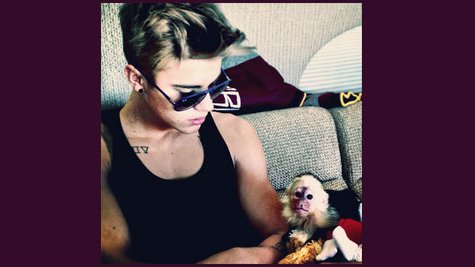 Justin Bieber can rest easy knowing that his pet monkey is in good care while he performs in Germany this week.
You may recall that the monkey, named Mally , was seized by German customs officials last week after Justin failed to provide the proper paperwork required to bring the animal into the country.
The German branch of People for the Ethical Treatment of Animals says it has kept in touch with the shelter where Mally is being held, and can report that she is "being treated wonderfully well."
In a statement obtained by ABC News Radio, PETA Germany says, "She is in excellent hands in a safe place, and she'll be integrated with other monkeys so that she can receive the social interaction vital to her well-being and psychological growth."
The organization adds, "Young people often acquire animals without considering the impact or consequences, and Justin Bieber likely had no idea that Mally was a baby, taken away from her mother at way too young an age. We trust that he'll do the right thing and pay for Mally to stay in Europe with people who are sensitive to, and familiar with, her unique needs."
If Justin wants his monkey back, he'll have to fill out the necessary paperwork within the next few weeks.
Copyright 2013 ABC News Radio