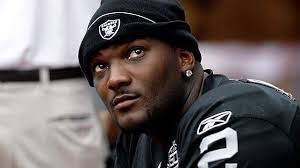 JaMarcus Russell says he is ready for a comeback.
That is if there is a team out there willing to pick him up.
Russell was the first overall pick in 2009. He held out until the Raiders signed him to a contract worth $61 million.
Russell went on to become one of the biggest busts in NFL history as he only compiled 18 touchdowns and 4,083 yards passing in 3 seasons with the Raiders.
Russell says he has lost 25 pounds and has been working out the past 2 months in hopes that an NFL team will give him another shot.