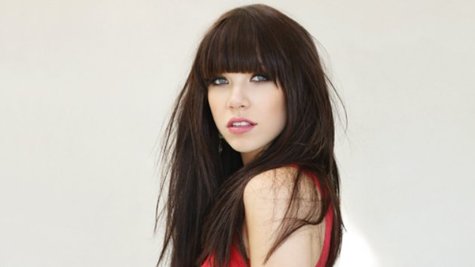 Does Carly Rae Jepsen have another "Call Me Maybe" up her sleeve? We'll find out Tuesday, when she releases her debut U.S. album, Kiss. It includes "Call Me Maybe," of course, plus the other single she released this past summer, "Good Time." Her brand-new single, "This Kiss," is also on the album, and she says that song partly inspired its title...well, that, and the fact that all the songs on the record are basically about the same thing.
"They're all about love and flirtation and really, kind of, being in the moment. Like, 'Tonight, I'm feeling this and I need to react on it,'" Carly tells ABC News Radio. "And I wanted to write pop songs that really took you to the present and you weren't sort of contemplating what's going on five years from now, or in the past...you were just really there. And Kiss felt like, you know, that one moment in time where you can't be anywhere but where you are."
Carly co-wrote nearly every song on Kiss , and was involved in every aspect of the album, hand-picking all her producers and songwriting collaborators. "It's sort of become the project of my life," she laughs. "I look at it, kind of, as my baby, and releasing it on the 18th, I'm like, 'Here she is. Isn't she pretty? I hope you like her...'cause I'm in love!'"
Speaking of love, one of the musical collaborators on Kiss is songwriter and producer Matthew Koma , who is reportedly Carly's boyfriend. But her only duet partner on the record is a guy she's definitely not dating: fellow Canadian star Justin Bieber . It was Justin who was instrumental in Carly getting signed to a U.S. record label, and who boosted her career by promoting her relentlessly to his millions of his devoted fans. Their duet, "Beautiful," is a ballad they recorded the first time they ever met in person.
As for what Kiss sounds like, it's definitely pop, but Carly has described it in a statement as being influenced musically by legendary singer/songwriter James Taylor , '80s New Wave group The Cars and Swedish pop star Robyn. Explaining that strange mixture, Carly tells ABC News Radio, "James Taylor is very influential [to me] because it's what my parents listened to...when I think of songwriting and storytelling, I definitely pull from him. Whether you can hear it or not, it's definitely there. Robyn, I love...and I think I was thinking about her a lot when writing this album."
So what about The Cars? Carly explains, "There is a little bit of an '80s theme to everything that I'm doing lately, and I'm combining that with my own spin on pop music. And there you have it: Kiss !"
Carly will hit the road to promote Kiss at the end of this month. She's the opening act for Justin Bieber's highly-anticipated Believe tour, which gets underway in Glendale, Arizona on September 29. During the tour, the two will duet every night on "Beautiful."
Copyright 2012 ABC News Radio