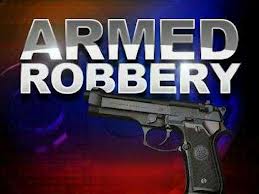 Vigo County Police are continuing their search for an armed robber.
Sheriff's deputies say that a masked man walked into Bob's Country Market on US 150 and Bolton Rd near St Mary of the Woods college just before 9 Sunday night.
The man displayed a silver semi-automatic hand gun, took about $100 in one's and ten's and then made a getaway on foot.
The robber is described as being about 5'7" and about 170 lbs.
He was wearing a "ghoul mask with string hair", a camouflage shirt, green khaki pants and dark gloves.
Terre Haute Police Department's K-9 tracked the scent for a while but lost it.
Police say that could mean the suspect then got into a vehicle and fled.
Police are reviewing security camera footage to see if there is a good picture of the robber.
If you know anything call police.