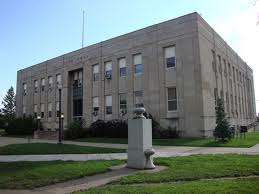 Terre Haute plans to spend about $300,000 next year to renovate the main entrance to the city hall.
The new entrance will completely replace the existing entrance and will include a new metal detector for security.
Currently there is a metal detector – staffed by a Terre Haute police officer – at the entrance to the city courtroom inside City Hall, but not at the entrance to the rest of the building. The new entrance will also include an enlarged foyer area inside City Hall which was built in 1937.
Funds for the new entrance are expected to be included in the city's 2013 budget and will come from the city's cumulative capital development fund. Once the new entrance is in place, the rear entrance will be for City Hall employees only. The Board of Works approved an agreement allowing the city to accept three, used 30-passenger buses from northwest Indiana. The buses will be provided to the city free of charge. The buses will provide the extra capacity needed for some bus routes that are currently being served by smaller buses that are often full.