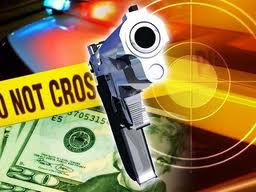 Robbers beware.
In the past three weeks two armed robbers were shot and killed in Indianapolis and now a worker at a Richmond pizzeria shot and killed another would-be robber over this past weekend.
30 year old Freddie McCoy, was shot by an employee of local pizzeria and died at Reid Hospital after being treated by medical personnel on scene.
The owner of the restaurant Terry Padgett, the owner of the pizza shop, was identified as the person who shot the robber in a statement from a Richmond attorney.
That attorney said that Mr. Padgett acted quickly and decisively to protect both his business and his daughter.
He should be back to work Thursday.
It's not clear from the report if McCoy had a weapon.