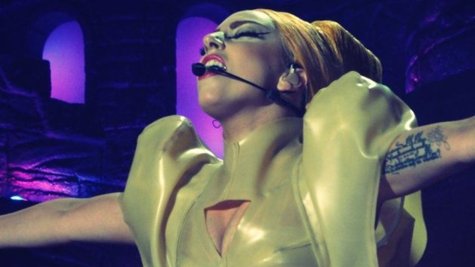 Lady Gaga and Prince have both contributed songs to movie soundtracks in the past, and it looks as though they may do it again, for one of the most high-profile films of 2013: The Great Gatsby.
The Great Gatsby, a new film adaptation of F. Scott Fitzgerald's legendary novel with Leonardo DiCaprio in the title role, will hit theaters May of 2013. It's directed by Baz Luhurmann, the man who gave us Moulin Rouge! and Romeo + Juliet, and who's known for using pop music very effectively in his films. Actress Adelaide Clemens , who'll play the role of Catherine in the movie, hinted that Gaga and Prince songs may be featured in it.
Speaking to Indiewire.com , Clemens said, "They have some new music that's going to be added to the film. Some pretty huge artists have approached Baz and are writing songs for the film, and I don't think Warner Bros. are going to turn down Prince and Lady Gaga knocking down your door." She then added, "I don't know if I'm allowed to say that."
Prince's latest soundtrack contribution was to the 2006 film Happy Feet , while his 1984 classic Purple Rain remains one of the most acclaimed movie soundtracks of all time. As for Gaga, she recorded a duet with Elton John for the movie Gnomeo + Juliet, and a song of hers called "Fashion" was on the 2009 soundtrack for the movie Confessions of a Shopaholic .
Copyright 2012 ABC News Radio