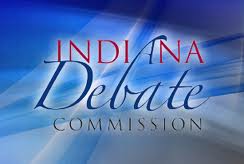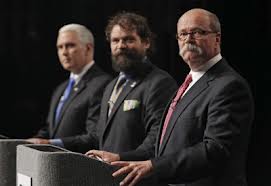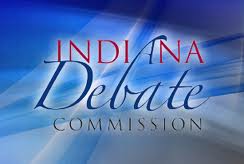 All three candidates for Indiana Governor debated last night.
As for who won, that would largely depend on which party you like best.
Republican Mike Pence defended his attendance record.
Pence said he had a 95 percent attendance record in the U.S. House but Democrat challenger John Gregg said that he's missed more than 80 percent of votes. Pence also said the state ran deficits of tens of millions of dollars during five of the six years that Gregg was speaker of the Indiana House. Gregg challenged Pence in strong words when he attacked him for his failure to support the rescue of Chrysler and GM and for Pence's free trade stance, which Gregg says has cost Indiana jobs in the steel industry.
There are around 125,000 auto workers in the state.
There were jabs back and forth over the recently enacted Right To Work law.
Gregg and Libertarian Rupert Boneham defended unions, with Boneham pledging to reverse the new law.
Boneham also promised to end ISTEP, while Gregg promised to end what he called the war on education.
Obama care was also discussed.
There are two debates left in the governor's race.
Next Wednesday, the candidates will meet in South Bend at 7 p.m.
They'll hold their third and final debate at 7 p.m. Oct. 25 in Fort Wayne.