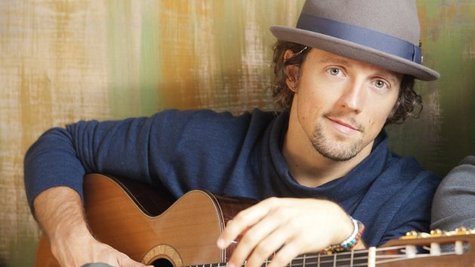 Jason Mraz isn't gay, but he's the cover star of the upcoming April issue of the gay magazine Instinct , which is itself an accomplishment. Because of his ongoing support of gay rights, the magazine says he's the first-ever straight man to be chosen to appear on their cover. But in the accompanying interview, Jason says that unwavering support ended up contributing to his breakup with his fiancee.
Jason and his fiancee, singer Tristan Prettyman , got engaged in 2010, and had initially said that they didn't want to tie the knot until gay marriage was legal. But that decision became problematic. "It was the first time I had been engaged and suddenly, I understood 'the fight,'" he tells the magazine. "I put myself in the position and said, 'Now I really know what it feels like to look at my partner and know that I can't get married.'"
Unfortunately, Jason's conviction didn't sit well with Prettyman. "I've never really talked about this, but after a couple of months, she was like, 'This is kinda f***ed up, because I really want to get married and have some babies," Jason reveals, noting that while she too believed in the fight for equality, she got frustrated having to wait.
Jason tells Insight, "We eventually broke up and I think that was one of the factors." But there are no regrets, says the singer, explaining, "It's still absolutely something I stand behind and feel today."
Jason's new album Love Is a Four Letter Word hits stores April 17.
Copyright 2012 ABC News Radio