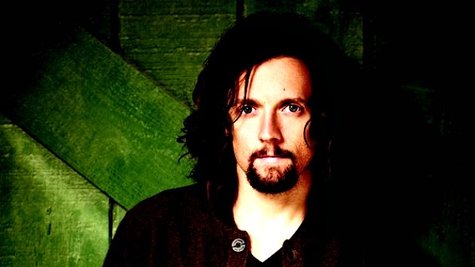 Jason Mraz usually seems like he's a happy-go-lucky, laid-back dude, but in his new episode of VH1 Storytellers, premiering Friday, he reveals that while writing his hit "I Won't Give Up," he actually contemplated taking his own life.
In a preview clip featured on Entertainment Weekly's website, an emotional Jason gets choked up as he describes how "bummed out" he was when he was writing the song, because he was in a relationship that, he says, was "killing" him. He doesn't specify, but it's a strong bet he means the relationship he had with singer/songwriter Tristan Prettyman. The two got engaged, but then called it off and broke up, saying they'd remain friends.
Speaking about the relationship, he says he didn't know if he wanted to stay in it or leave. Then he started beating himself up, telling himself, "Who are you being right now, by not powerfully choosing which way you want to go? Just choose." Then, as he began to write a song about the situation, he started feeling even worse.
"This song is being written, and I'm being able to see my life unfold on the page, acknowledge this beautiful person in my life for getting me to this point in my life of contemplation...and I saw...how I was afraid to go on in my career," Jason tells the crowd. "I thought I'd done enough, I thought, 'What more could be expected of me?' I thought, 'Well I could just quit the career.' And in many cases...you sometimes contemplate ending your life. It's a ridiculous thought, but we're human and it's one of the powers that we have."
Eventually, Jason says, he realized, "I don't have to give up on loving this person even if [we break up]. I don't have to give up on our friendship and if I was about to give up on my career or even my life, before I do that, why don't go out there and do some really radical stuff?'" He says as a result, he began to "own up and live at my edge," and he gives credit to "I Won't Give Up" for pushing him to make that choice..
"Now every day I get to sing this song and it's my mantra," he tells the crowd. "I get to be here and celebrate how awesome my life is."
Jason's VH1 Storytellers episode premieres Friday at 11 p.m. ET
Copyright 2012 ABC News Radio