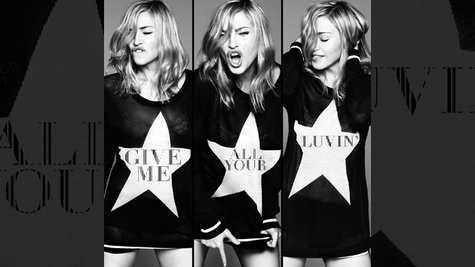 Madonna's fans are giving her a lot of "Luvin'" when it comes to sales of her new single -- it's just become her 38th top-10 hit. "Give Me All Your Luvin'," the first single from Madonna's upcoming album MDNA , now extends Madonna's record as the artist with the all-time most top-10 hits. That's right -- she's got more than T he Beatles, who have 34, and Michael Jackson and Stevie Wonder , who are each tied for third place, with 28.
On top of the chart, Kelly Clarkson hangs onto the #1 spot with her hit "Stronger (What Doesn't Kill You)." It's also gone platinum, with sales of 1.24 million downloads, according to Nielsen Soundscan. Sales of her album Stronger increase by 51%, following her appearance on the Grammy Awards last weekend.
Meanwhile, Whitney Houston is back in the top 10 on the Billboard Hot 100 with her signature hit, "I Will Always Love You," which re-enters the chart at #7 on a sales increase of more than 6,700%. When it was first released back in 1992, it was #1 for 14 weeks.
Copyright 2012 ABC News Radio