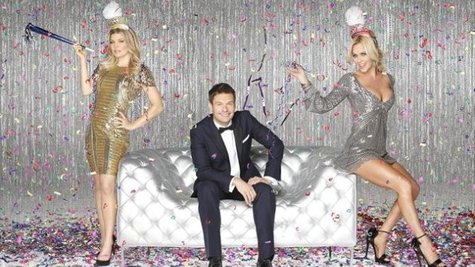 On Monday night, as the world looks to New York City's Times Square, the ball drops and we say goodbye to 2012, something will be missing: Dick Clark . The TV icon died this past April, but his creation, ABC's Dick Clark's New Year's Rockin' Eve, goes on, with host Ryan Seacrest . But Seacrest says it will definitely be a challenge for him to host the show for the first time without Clark, especially since he's never actually counted down to the New Year alone.
"I haven't really thought about what it's going to be like in that moment because I've never done it myself," he tells ABC News Radio. "I've never done the actual countdown...It's always, you know...toss it to 'The Man' to do it." He says counting down to the ball drop himself for the first time will be "surreal" and "emotional," adding, "Even though we'll be celebrating, in my mind, I know that, personally, I miss my friend being here."
But that doesn't mean that this year's New Year's Rockin' Eve will be a downer. Seacrest says, "We'll start the evening, looking back at those great moments because there were so many memorable moments looking at Dick's career." The festivities get underway at 8 p.m. ET with New Year's Rockin' Eve Celebrates Dick Clark , a two-hour tribute to the late TV icon who created the show over 40 years ago. Fergie and Jenny McCarthy will host.
Seacrest says of Clark, "He started this 40 years ago with just one camera and one light and one microphone, and now it's turned into a big celebration, and so we'll look back, we'll reflect, and then we'll celebrate the new year."
And what a celebration it will be. At 10 p.m. ET, Seacrest and Jenny McCarthy will kick off the official start of the New Year's party from New York, while Fergie will get things going on the West Coast. The party will keep on going on ABC 'til just after 2 a.m. ET. Performing live in Times Square this year are Taylor Swift , Carly Rae Jepsen , Neon Trees and "Gangnam Style" rapper PSY . On the West Coast, there'll be performances by Justin Bieber , Brandy , OneRepublic , Flo Rida , Karmin , Pitbull , The Wanted , Ellie Goulding and country star Jason Aldean .
This is Fergie's sixth year co-hosting New Year's Rockin' Eve. She tells ABC News Radio, "It's so great this year because we're paying homage to Dick Clark, who has touched the hearts and the lives of so many people, not only on New Year's Eve but on television and with music." She adds, "I feel like it's such an honor to be a part of this, to keep his legacy alive through this show and to celebrate him, the audience, the music all in one night."
Fergie also says she enjoys cutting back and forth to Seacrest in New York during the night. "I know he's freezing his you-know-whats off, and I'm sitting here in this nice, warm studio and I get to throw it to him, and so, it's a nice camaraderie," she laughs.
The big question, of course, is whether or not Seacrest will be doing the "Gangnam Style" horsey dance along with PSY as we ring in 2013. The answer is that it's unlikely. As he tells ABC News Radio, "I have tried it before and I've actually had had PSY show me how to do it and I still couldn't get it near right!"
As for what Clark would think of this year's show, Seacrest tells ABC News Radio, "I know he will be watching us from somewhere, making sure that we get it right. You can be certain about that."
Copyright 2012 ABC News Radio