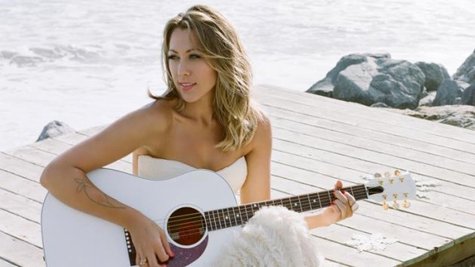 Colbie Caillat 's had a busy 2012, which was capped off by a flurry of TV appearances to promote her first holiday album, Christmas in the Sand . But she says looking back, the highlight of the year for her was an activity that, in the past, she never actually liked that much.
Colbie says her summer tour with Gavin DeGraw was the high point of the past 12 months for her, telling ABC News Radio, "It was the best tour I've ever been on....It was like family. It was like being away at summer camp." This marks a big change in Colbie's attitude, because, as she explains, "I've always not quite enjoyed touring, let's just say, and I've always wanted to, like, quit the tour life."
However, she says, "Because of this tour with all of those people, I actually am like, 'Book some more shows! I'm ready to go.' Like, this was a lot of fun."
In addition to touring more in 2013, Colbie has another New Year's resolution. "Last year, my resolution was to be adventurous and say yes to life...to any opportunity, and travel and experience more things...and be more friendly and open," she says. "This year, I think it's following through with things."
She explains, "I always, I have interests in things and then I don't stick it out -- like practicing guitar [or] learning a new instrument....I think [I'll be] forcing myself to do stuff like that, to learn more about everything and actually put the right time in."
Copyright 2012 ABC News Radio