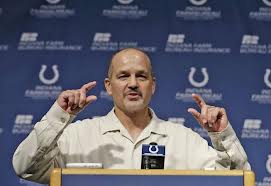 Indianapolis Colts head coach Chuck Pagano returned to team headquarters Monday morning where he addressed players and coaches at a team meeting before answering questions from reporters.
Pagano took an indefinite leave from the team in late September after beginning treatments for leukemia. He completed the last of three rounds of chemotherapy earlier this month and his oncologist, says the illness is in complete remission.
Pagano's return comes one day after the Colts (10-5) clinched a playoff berth. They went 9-4 in his absence.