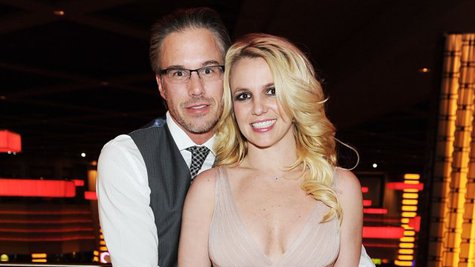 Though Britney Spears just bought a new home in Thousand Oaks, California, the singer and fiance Jason Trawick may be celebrating Christmas in Louisiana. A source tells the New York Post that the couple is planning on spending the holidays together in Britney's hometown of Kentwood, LA.
After wrapping Thursday's X Factor finale, Britney and Jason, who got engaged a year ago, reportedly left Los Angeles on Friday and headed down south. A source tells the Post, "Britney and Jason are bringing her sons down to Louisiana to be with the family, including her sister and her mom, Lynne ."
As for those reports that her relationship with Jason is on the rocks, it sure doesn't sound like it, judging by what Britney just told People magazine. "It amazes me that no matter what situation I'm in, Jason has the ability to always make me feel protected and loved," she gushed.
So, will Britney will return for The X Factor's third season? The source tells the New York Post that the singer isn't sure. According to the source, "[Britney] loved working with the contestants and the girls, but she doesn't yet know if she'll do another season."
Though Britney's contestant Carly Rose Sonenclar failed to win on Thursdsay night, the star still took to Twitter with a shoutout to her fans, saying, "Thank u Britney Army for standing behind me & supporting my superstar throughout this competition. Xo."
Copyright 2012 ABC News Radio