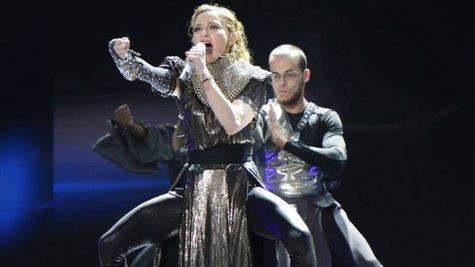 Madonna doesn't suffer fools gladly, even if those fools are fans who've come to see her in concert. In a YouTube video , the superstar can be seen berating fans at her sound check for smoking.
According to The Hollywood Reporter , the video captures Madonna at the Estadio Nacional in Santiago, Chile on Wednesday. It was raining, and Madonna was holding an umbrella, which turned inside out, drawing laughs from the crowd. Then, she stopped a performance of "Human Nature" and laid into the crowd.
"There are people smoking right now," she scolded. "No smoking. If you're going to smoke cigarettes, I'm not doing a show. You don't care about me, I don't care about you. All right? Are we going to play that game? I'm not kidding. I can't sing if you smoke." She added, "Entiendes?" which is Spanish for "Do you hear me" or "Do you understand me?"
Finally, Madonna gave one parting shot -- "You're looking right at me and smoking cigarettes, like I'm a stupid f***ing idiot" -- and then stormed off the stage .
Copyright 2012 ABC News Radio