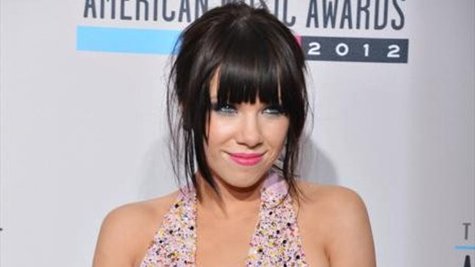 Pretty much every family that celebrates Christmas has their own Christmas traditions, but some families are a little more, shall we say, "into it" than others. And Carly Rae Jepsen says, for better or for worse, her family is one of those kinds of Christmas families.
"Ugh, my family and Christmas...it's a serious matter," Carly tells ABC News Radio. "We take it not lightly at all." Carly is spending close to two weeks back home in Mission, British Columbia, "taking the time off to really sleep in, wear my pajamas and eat a lot of food and do a lot of crazy little Christmas traditions."
As for the those traditions, Carly says, "We have a whole whackload [of them]." Like what? "We have dance parties in the living room to old Christmas classics," she reveals. "We decorate the tree. We make a real moment out of it and, of course, there's the family dinner. The presents, the stockings...and it's all done in, like, a specific order. We're very anal about that. But it's a great time, and it's something that I would never miss."
So, if Carly isn't going to be dancing around her living room singing "Call Me Maybe," what Christmas classics will she be looking forward to hearing? "Some of my favorite Christmas songs would be 'Have Yourself a Merry Little Christmas,' it's a classic, it makes me cry," she says. "And 'Let It Snow.' I love that song. It's very simple and sweet; it's a good one though."
But now that Carly is a Grammy-nominated, award-winning pop star who had one of the world's biggest hits this year, will the folks back home still treat her the same way when she's there for the holidays? "Oh yeah, yeah!" Carly tells ABC News Radio. "I mean, I haven't changed and so they treat me the same as always."
She adds, "It's good to go back there, I think, also just because the pace of this is so crazy that it's just nice to kinda get that time to, you know, reconnect and have some off moments as well."
Carly had better get all her resting and reconnecting done in the next week, because then it's right back into that "crazy pace." She's scheduled to sing live in New York City's Times Square on December 31 as part of ABC's Dick Clark's New Year's Rockin' Eve with Ryan Seacrest, and then on January 5, she'll resume her tour with Justin Bieber .
Copyright 2012 ABC News Radio