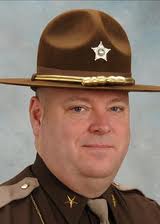 Vigo County Sheriff Greg Ewing announced yesterday that he is developing a proposal to add three full-time deputies to post in county middle and elementary schools on a permanent basis.
Ewing will have to make a proposal to the county council to ask for the money to pay for the idea.
Having officers patrol all schools used to be normal practice but the program lost its grant funding about two years ago.
The Terre Haute Police Department already has officers assigned full-time to all of the city high, middle and elementary schools.
The county council will take up the idea and talk about how to fund it at their meeting next month.