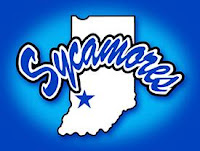 The Indiana State Sycamores women's basketball team is off to a good start finishing the home portion of their non-conference schedule undefeated at 6-0 after beating Chicago State 69-35.
It's the first time the Lady Sycamores have went unbeaten outside the Missouri Valley Conference since the 2006-07 season. The Sycamores haven't lost at home since last season's 63-51 victory over Wichita State on Senior Day.
At 8-2 overall the Sycamores have played well.
Junior Anna Munn recently won Missouri Valley Player of the Week.
The Lady Sycamores take on Butler in Indianapolis this Saturday, December 22nd.
Tipoff @ 5 p.m. ET. The game will be broadcast right here on 98.5 WIBQ.