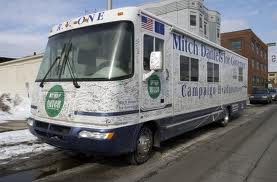 Gov. Mitch Daniels is taking the RV featured in his campaigns on a final trip as he wraps up his eight years in office.
The governor's office says Daniels has visited each of Indiana's 92 counties in the RV at least five times since starting his run for governor in 2003 and has logged well over 100,000 thousand miles.
Daniels said the original idea behind the RV was to get closer to Hoosiers at their homes and gathering places to talk with them and find out in what direction they wanted him to steer Indiana.
Daniels quickly discovered that Hoosiers loved to sign his RV. By the end of the 2004 campaign, it was so full that many people just assumed it needed a good wash.
When he started his re-election run in 2008, he had the vehicle completely repainted and started over collecting names.
Daniels estimates there are 20,000 names showing, from every visible flat space and cranny.
Now two campaigns later, it's on its way now to its final home, The RV Hall Of Fame museum in Elkhart .