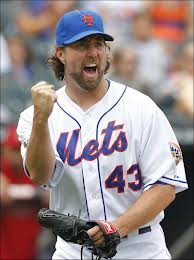 If R.A. Dickey agrees to sign an extension he could be a Toronto Blue Jay.
The Jays and New York Mets have come to an agreement on a principle trade, but the deal is contingent on Dickey signing an extension with Toronto.
Both clubs worked a 72-hour negotiating window on Saturday. That window expires at 2 p.m.Tuesday.
Dickey is the reigning National League Cy Young Award winner and is signed for $5 million next season.
Dickey has been seeking a two-year extension in the $25 million range from the Mets.
The trade would send Dickey, catcher Josh Thole and a non-elite prospect to the Jays while the Mets would receive Travis D'Arnaud, right-hander Noah Syndergaard, catcher John Buck and another non-elite prospect.
The deal is still being negotiated at this time.