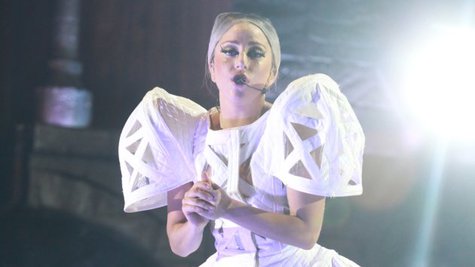 Lady Gaga and Bruce Springsteen were among the guests who joined the Rolling Stones Saturday for the last show of their 50th anniversary tour, in Newark, New Jersey. The concert, which aired on pay-per-view, was a fitting close to the first live shows the band has played in five years.
According to Rolling Stone , Lady Gaga appeared in a stripy cat suit and wore her hair long for her part on "Gimmie Shelter," offering up a soulful and strong vocal. Another big moment in a thrill-packed night came when local hero Bruce Springsteen took to the stage to trade lines with Jagger on "Tumbling Dice."
In addition to the aforementioned guests, former member Mick Taylor was on hand to lend his guitar work to "Midnight Rambler," while John Mayer and Texas bluesman Gary Clark Jr. joined the band for a rollicking rendition of "Going Down."
The only somber point in an otherwise-electric show was when the band took a brief pause to mention the shooting deaths of 20 children and six adults at an elementary school in Newtown, Connecticut, on Friday. Mick Jagger told the audience that the entire world was feeling the pain of the stunned nation, adding, "We just wanted to send our love and condolences to all the people who lost loved ones in the tragedy in Connecticut."
Copyright 2012 ABC News Radio