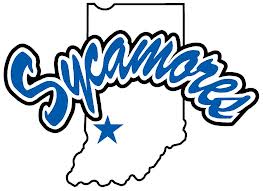 The Indiana State Sycamores didn't have enough Saturday as they fell to Morehead State.
Two Sycamores reached career highs in the contest in Kristian Smith and Manny Arop.
Smith scored 20, Arop 19 and Jake Odum added 15.
The Sycamores were 17 of 46 from the field, only 37 percent while Morehead State shot 49 percent.
Morehead State never trailed and led 32-26 at halftime.
ISU closed to 59-57 on a layup from Smith with 2:55 to go, but Morehead State pulled away with a 71-63 win.
Indiana State (4-3) will take on Ole Miss December 22. Tipoff @ 4 p.m. ET