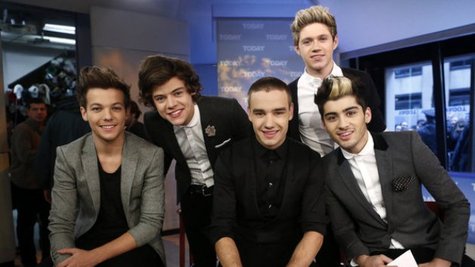 One Direction have been tapped for a big honor in their native U.K.: they're going to record a charity single for an annual event called Red Nose Day. The single will be a cover version of "One Way or Another," a 1978 hit by the new wave band Blondie , and it will go on sale in February; Red Nose Day itself is March 15.
Red Nose Day is an annual telethon held to raise money for Comic Relief, a British charity that was started in the mid-80s by two comedians to raise money to fight famine in Ethiopia. Its mission has now expanded to encompass helping "poor and disadvantaged people" in general. On Red Nose Day, many people wear red foam clown noses, which are available in exchange for a donation to the cause, and many British schools relax their uniform rules.
Metro quotes 1D's Harry Styles as saying, "'We have grown up with Comic Relief and taken part in lots of Red Nose Days at school so we were thrilled to be asked to do this year's Red Nose Day single. It's such an honor for us. We can't wait to perform our version of this iconic pop song and raise as much money as possible for this incredibly important cause that is really close to our hearts."
His bandmate Zayn Malik added, "At school Red Nose Day was a big deal. Me and my friends used to really look forward to it – I remember one year we all came in in our pajamas which was pretty cool."
Some of the artists who've recorded Red Nose Day singles over the years have included The Wanted , The Spice Girls , Susan Boyle, Cher and Eric Clapton.
Copyright 2012 ABC News Radio