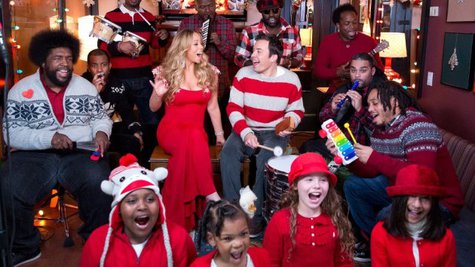 Mariah Carey has created several different versions of her holiday classic "All I Want for Christmas Is You" over the years, and the latest version is a viral video of her performing the song with Jimmy Fallon & the Roots, backed up by toy instruments...and some adorable children.
The video , which aired Tuesday night on Late Night with Jimmy Fallon, starts with Jimmy and the Roots singing the song with some drums, a toy xylophone, kazoo, wood blocks, a melodica and other classroom instruments. Then, Jimmy starts a rhythm going on a tiny keyboard and Mariah sweeps in, dressed in a skin-tight, cleavage-revealing, festive red dress, and starts belting out the tune. Four little kids then pop up and sing along.
And if you ever doubted that Mariah's voice is still as great as ever, just check out her performance. There are no studio tricks and no production, and she still hits that high note on "is YOUUUUU" perfectly.
Copyright 2012 ABC News Radio