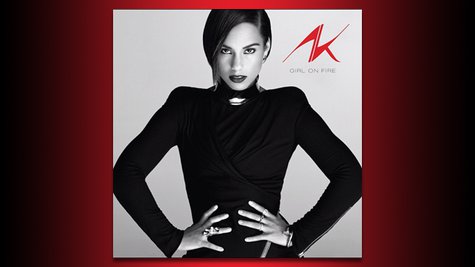 Alicia Keys' album sales are on fire. Her new album Girl on Fire has debuted at #1 on the Billboard album chart, becoming the fifth chart-topper of her career.
That being said, the first-week sales total of Girl on Fire is the smallest of any previous Alicia album -- she started with 159,000 sold, according to Nielsen Soundscan.
Alicia's first four albums -- three studio albums and one live record -- all reached #1 as well. Her last album, 2009's The Element of Freedom , only reached #2 because it was held off by Susan Boyle's blockbuster I Dreamed a Dream .
Most album sales were down this week, which follows one of the busiest shopping weeks of the year. Some of the only albums to post sales gains were, unsurprisingly, Christmas albums.
Michael Buble's 2011 holiday release Christmas jumps into the top 10 with a 24% sales increase, while Lady Antebellum's holiday set, On This Winter's Night , rises into the top 10 as well on a 13% sales boost. Cee Lo Green's Christmas album Cee Lo's Magic Moment shot up 88 spots on the chart, to #32.
Copyright 2012 ABC News Radio