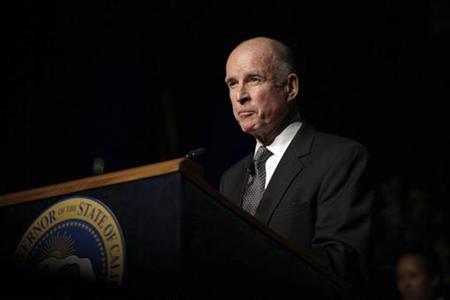 By Jim Christie
SACRAMENTO, California (Reuters) - California Governor Jerry Brown on Monday unveiled a budget that includes $12.5 billion in what he called "painful" cuts to state worker pay, healthcare, welfare and higher education to help close the state's $25.4 billion budget deficit over the next 18 months.
The cuts are California's response to a steep dive in state coffers due to a crippling housing market crash, recession, financial market turmoil and double-digit unemployment that has hammered revenue from personal income taxes.
"These cuts will be painful, requiring sacrifice from every sector of the state, but we have no choice," Brown said in a statement posted on his Web site. He is due to present the budget to lawmakers on Monday.
California's budget development is closely watched by the $2.8 trillion U.S. municipal bond market. California is the most populous state and the market's biggest debt issuer. It currently shares Moody's Investor Service's lowest state credit rating, along with Illinois.
The budget plan includes a June special election to extend temporary tax increases for five years. For that plan to proceed, lawmakers must support the budget plan by March.
But Brown, a Democrat, is likely to face difficulties convincing the state's Democratic-controlled legislature to sign on to such deep cuts to the state's social safety net.
Under the proposed budget, state workers not covered by collective bargaining agreements will see pay cuts of 8 to 10 percent. In addition, the budget proposal includes $1.7 billion in cuts to the state's health program and $1.5 billion in spending reductions for its welfare-to-work program.
Big cuts are also slated for the state's programs for the developmentally disabled, including mentally retarded and autistic individuals.
The renowned University of California system and other state universities also face $1 billion in cuts, though public schools will not see any spending cuts.
"Schools have borne the brunt of spending reductions in recent years," Brown said.
Brown's budget envisages overall spending of $127.4 billion for the 2011-12 fiscal year, including $84.6 billion in so-called general fund spending.
The proposed budget also puts $1 billion into a "rainy day" fund.
If voters approve the tax extensions, which would continue current personal income and sales taxes as well as a vehicle license fee, that revenue would be transferred directly to local governments.
Brown said his plan to return decisions and authority to school districts and local governments was "vast and historic." As part of that plan, the budget proposes phasing out the state's funding mechanism for redevelopment agencies to return billions of dollars in property tax revenues to local governments.
(Reporting by Jim Christie, writing by Nichola Groom; Editing by Andrew Hay)