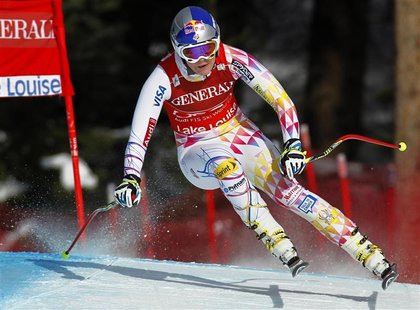 By Patrick Lang
LAKE LOUISE, Alberta (Reuters) - Lindsey Vonn humbled the rest of the field in a World Cup downhill on Friday to claim her Lake Louise crown back and notch her ninth victory in the Canadian resort.
Beaten twice by arch-rival Maria Riesch on the same course last season, Vonn set the record straight, eclipsing all her opponents by at least 1.95 seconds in one minute 53.19.
Only Austrian Annemarie Moser-Proell -- considered the best skier ever -- has won by a bigger margin.
Vonn first won a downhill in Lake Louise in 2004 and has since won seven more as well as a Super-G on the men's Olympic run.
The American had already shown in training that her determination had not been undermined by the announcement of her divorce last week and she had rarely been so dominant in recent seasons as she was on Friday.
Winner of her first giant slalom in the season-opener in Soelden in October, the 27-year-old all-rounder looks better equipped than ever to claim back the overall crown especially as holder Riesch seems far from her form of last winter. The German was only ninth, 2.47 adrift.
Tina Weirather of Liechtenstein was second for her first World Cup podium at 22.
The former downhill junior world champion is the daughter of former Austrian skier Harti Weirather and 1980 double Olympic champion Hanni Wenzel.
Swiss Dominique Gisin was third, 2.06 off the pace with giant slalom Olympic champion Viktoria Rebensburg a further 0.04 adrift.
Rebensburg tops the overall World Cup standings on 230 points and could turn out to be the biggest threat to Vonn's domination in 2011-2012.
(This version corrects number of Lake Louise downhill wins in par four, deletes downhill reference in headline)