« back to Movies
How To Make Money Selling Drugs
Release Date: None
Genres: Documentary
Cast: Woody Harrelson, Susan Sarandon, 50 Cent, Eminem, David Simon, Matthew Cooke, Freeway Ricky Ross, Brian O'Dea
Directors: Matthew Cooke
Official Site: http://www.howtomakemoneysellingdrugs.com/
Distributor: Tribeca Films
The film offers a provocative glimpse into the lives of those on both sides of the "war on drugs," delivering a diverse and unique perspective on the subject through interviews with 50 Cent, Eminem, The Wire producer David Simon, Arianna Huffington, Woody Harrelson, Eminem and Susan Sarandon, as well as infamous drug kingpin "Freeway" Rick Ross. Presenting a step by step guide on how to go from street dealer to drug lord, the documentary reveals how public policy actually entices Americans into dealing drugs. Bert Marcus Productions was granted unprecedented access from top?ranking government officials, including U.S. Drug Czar to the Drug Enforcement Agency, all providing varied viewpoints on this controversial subject.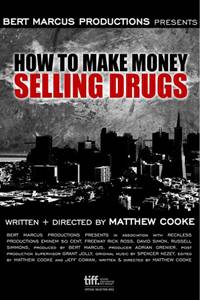 Show Times / Buy Tickets
There are no current showings for How To Make Money Selling Drugs in this area.