« back to Movies
Disconnect
Release Date: None
Genres: Drama, Suspense/Thriller
Cast: Alexander Skarsgård, Jason Bateman, Paula Patton, Frank Grillo, Max Thieriot, Colin Ford, Hope Davis, Michael Nyqvist, Jonah Bobo
Directors: Henry Alex Rubin
Distributor: LD Entertainment
The need for human connection is told through interweaving stories: A hard-working lawyer is attached to his cell phone, but can't find the time to communicate with his family. An estranged couple uses the internet as a way to escape from their lifeless marriage. A widowed former police officer struggles to raise a son who is cyber-bullying a classmate. An ambitious journalist learns of a teen performing on an adult-only site and sees this as a career-making story.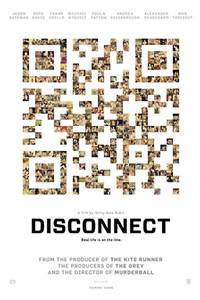 Show Times / Buy Tickets
There are no current showings for Disconnect in this area.