« back to Movies
Chinatown (1974)
Release Date: None
Genres: Drama, Suspense/Thriller
Cast: Jack Nicholson, Faye Dunaway, John Huston, Diane Ladd
Directors: Roman Polanski
A private detective, Jake Gittes, hired to investigate an adultery case, stumbles on the plot of a murder involving incest and the privatization of water through state and municipal corruption, land use and real estate. If he doesn't drop the case at once he faces threats of legal action, but he pursues it anyway, slowly uncovering a vast conspiracy.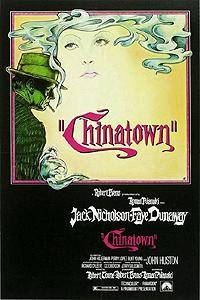 Show Times / Buy Tickets
There are no current showings for Chinatown (1974) in this area.